A Plastic Ocean is an adventure documentary shot on more than 20 locations over the past 4 years. Explorers Craig Leeson and Tanya Streeter and a team of international scientists reveal the causes and consequences of plastic pollution and share solutions.
2016 Documentary 1h 42m
Nickie Ferrante (Cary Grant), a well-known playboy, meets Terry McKay (Deborah Kerr) on a cruise ship from Europe to New York. Despite being engaged to other people, they fall in love and agree to reunite at the top of the Empire State Building in six months. However, an unfortunate accident keeps them from meeting.
1957 Melodrama / Comedy-drama 1h 59m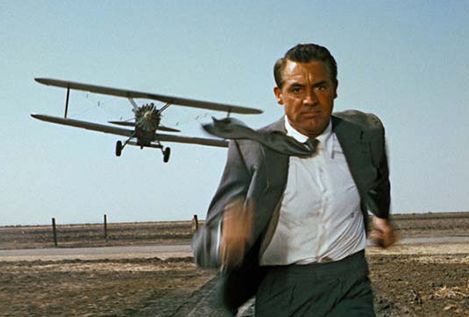 Nickie Ferrante (Cary Grant), a well-known playboy, meets Terry McKay (Deborah Kerr) on a cruise ship from Europe to New York. Despite being engaged to other people, they fall in love and agree to reunite at the top of the Empire State Building in six months. However, an unfortunate accident keeps them from meeting.
1959 Thriller / Drama 2h 25m
DOUBLE FEATURE - SKYE'S THE LIMIT / A PLASTIC OCEAN
This award-winning film documents one woman's solo circumnavigation of the Isle of Skye, Scotland, on a stand-up paddleboard. The adventure highlights the effects of plastic pollution on even the most stunning and remote of places.
2017 Directed by James Appleton
Cal Major will be joining us on Friday evening with a showing of her award-winning film "Skye's the Limit" followed by a Q&A before the main feature Plastic Ocean. Cal's epic and dramatic ocean voyage, to circumnavigate the Isle of Skye, Scotland, on a Stand up Paddleboard highlights the effects of plastic pollution.
A Plastic Ocean is an adventure documentary shot on more than 20 locations over the past 4 years. Explorers Craig Leeson and Tanya Streeter and a team of international scientists reveal the causes and consequences of plastic pollution and share solutions.
2016 Documentary 1h 42m
TAKE EVERY WAVE: THE LIFE OF LAIRD HAMILTON
Filmmaker Rory Kennedy tracks the remarkable career of big wave surfer Laird Hamilton. Hamilton is a unique sports icon - an athlete who has refused to compete professionally yet has dominated big wave surfing as no other figure in history has ever done.
2017 Documentary 1h 58m
WALL-E, is the last robot left on Earth. He spends his days tidying up the planet, one piece of garbage at a time, and he's more than a little lonely. Then he spots EVE a probe sent back to Earth on a scanning mission. Smitten WALL-E embarks on his greatest adventure yet when he follows EVE across the galaxy.
2008 Fantasy / Science fiction film 1h 38m
The Marx Brothers were one of the most influential comedians of the 20th Century and they're still funny even today in the 21st Century! We've chosen 'Monkey Business' as our film, so join our stowaways on an ocean liner and share a bellyful of laughs
1931 Black and white / Comedy 1h 19m
One of the most magical movies ever made, mixing the wizardry of Jim Henson's puppetry (The Muppets) and the wizardly David Bowie as the iconic Goblin King. The film features incredible creatures, memorable music and visual magic in a fantasy like no other. If you like this, also look out for its companion film The Dark Crystal on Saturday.
U 1986 Fantasy / Action 1h 41m
The Festival is offering people who book to see one or both Zombie films the opportunity to find their inner Zombie by taking part in a Zombie School and a Zombie Shuffle to the Embassy cinema" Once you have booked your tickets please contact the Embassy Cinema for more details on how to take part.
Shaun (Simon Pegg) is a 30-something loser with a dull, easy existence. He lives with his slovenly best friend, Ed (Nick Frost). The only unpredictable element in his life is his girlfriend, Liz (Kate Ashfield), who wishes desperately for him to grow up and be a man. When the town is inexplicably overrun with zombies, Shaun must rise to the occasion.
2004 Fantasy/Action 1h 40m
The 'best horror franchise, ever' according to Vice magazine, directed by Sam Rami and starring Bruce Campbell, this cult classic was banned on release but has been loved by fans ever since. You can argue whether Deadites are zombies, but you can't argue with the awesomeness of the EVIL DEAD!
1981 Horror 1h 25m